Spa Skin / Facial Treatments
All Spa Facial / Skin Treatments include BioElements Questionnaire, consultation, product prescription and maintenance recommendation.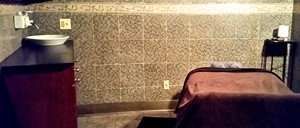 Signature Facial
Pumice Peel Treatment
Double Surface Treatment
Lactic-Plus Peel Treatment
Flaxx-C Firming Facial
Kerafole Renewal Facial
Acne Facial
Glycolic Detox Facial
Back Treatment
Skin Repair / Enhancements
Decollete "V" area
Enzyme Eye Zone Mask
Extractions
Eye Lash Tint
Brow Tint
Makeup Application
Waxing
Removal of unwanted facial or body hair. Priced upon consultation.
Eyebrows
Upper Lip
Chin
Bikini
Under Arm
Full Leg
Upper Back
Open to serve you: Monday – Thursday 9 AM – 9 PM, Friday 8 AM – 5 PM, Saturday 7 AM – 5 PM